1.The
Automatic Biscuit Packing Machine
adopts imported touching screen,on which all settings and operation can be done. Meanwhile,various product data can be stored in advance,and operator only to select parameters from the computer while usage.
2.Constant temperature heat sealing and cutting system is suitable for PE. POF etc, industrial standard shrink films, the seal is firm and nice, especially applicable for POF film, adjust the conveyor with the head wheel for packing products of different size. The reliability is higher and easier to operate it .
3.The front feed in systems speed is adjustable, combines a worktable at the end of the tunnel, makes whole machine highly automatic, it runs automatically without an operator comes true.
4. For this machine, the parts touching the material is made of stainless steel. Other parts also can be designed to be stainless steel according to your demand.
5.Equipped with a photoelectric controller to ensure that its packing bag patterns are perfect.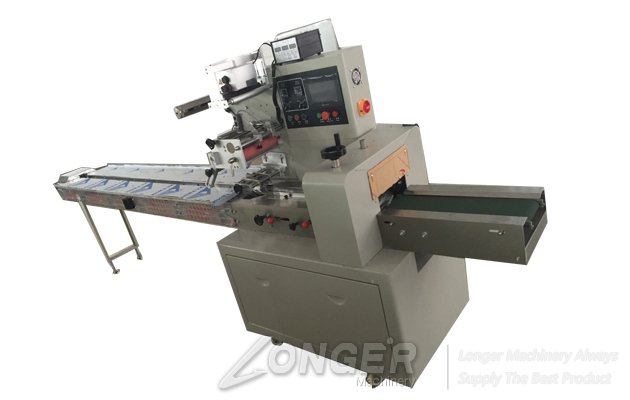 Advantages
1.PLC control, high sensor photoeletric colorcode tracing
2.excellent performance, simple operation and high-speed packing .
4.Gear system besides double-frequency conveter controller, making machine simpler operation and more stable, when high-speed working.
5.Compared to pillow rotary type packaging machine, the small pillow reciprocating type packaging machine's advantage is that the incision of the product is more neat and smooth, and there is no problem of wrinkle or irregularity brought by the packaging of the pillow rotary type packaging machine.
6. Human-machine operation, convenient and quick parameter setting..
7. Self diagnosis failure function, clear failure display..
8. High sensitivity optical electric color mark tracking and digital input cut position which makes the sealing and cutting more accurate..
9. Separate PID control to temperature, suitable for various packing materials..
10. Simple driving system, reliable working, convenient maintenance..
11. All the controls are achieved by software, convenient for function adjusting and upgrading.