Roll cut automatic biscuit production line of the digestion and absorption Japanese technology developed from the new equipment design, compact structure, high degree of automation, from the feed rolling, forming, waste recycling, drying, coating, cooling automatic one-time completion of the Company, to provide users with hundreds of kinds of molds and dozens of craft formula, by changing the mold and process recipe can produce market popular high-end cookies.This Equipment has three gauge rollers to sheeting the dough. Have three steps: Dough sheeting, hard biscuit molding, side material returning.
There are five conveying belts, two mesh belt are used for conveying the dough sheet, one mesh belt for the waste dough recycle, another two canvas belt are used for conveying the molded biscuit .

Adjust the hand wheel (3 sets); Printing Mould roller (with bearing); Canvas straining roller; Transmission chain of the printing roller ;Motor speed adjustment gauge (some are placed inside);Canvas outlet adjustment roller; Transmission chain of the printing roller.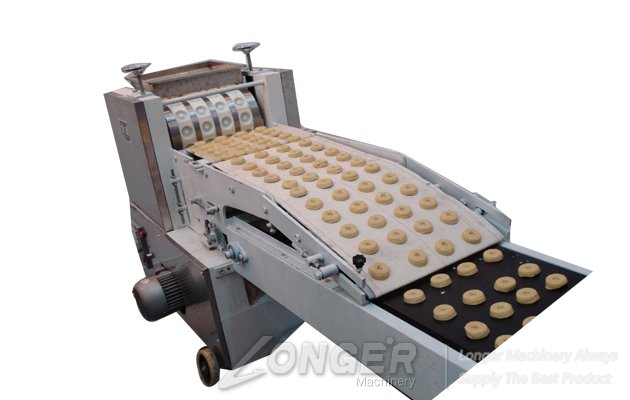 Advantages
1 professional design, high quality alloy roll, adjustment of roll gap to control the thickness of dough..
2. Adopt advanced cutting principles of roller-type. high-quality plastic mold, rolling into different varieties of pie throwing.
3. automatic recycling of waste dough, no more waste dough left.
4 with security guards.
5 using two speed motor, by adjusting motor speed, roll cutting rate is the same with the rate of flaking.
6 whole machine is in line with the state health standards.
7. Electrical safety in line with national standards
8.Imported parts,low noise, high durability.
9.Operate conveniently
10.It can be equipped with work line