Food mixer is my company has been carefully designed and produced advanced equipment, it uses the principle of planetary motion, a stirrer for planetary motion in the barrel, so that the food mix, which is characterized by: smooth, versatile, easy to operate, work efficiency high, try to candy factory, food factory, a pastry shop, but also for the pharmaceutical, chemical raw materials and other industrial units for modulating raw materials.
This Multifunctional Mixer has multiple functions of flour mixing, stuffing churning, and egg whisking, etc.It operates reliably. With the technique of stepless shift, the rev can be freely adjusted. In the mixer, parts contacting food are all made by stainless steel, which is up to the healthy standard of food industry. Stuff barrel can be freely lifted.
The motor efficiency, the motor coil 100 percent using copper, the motor efficiency can be increased 10-20% (relative to the aluminum motor). Long life design, coil winding insulation design life of more than 12 years.
Shield linkage micro switch, open the hood that shutdown protection, to ensure operator safety.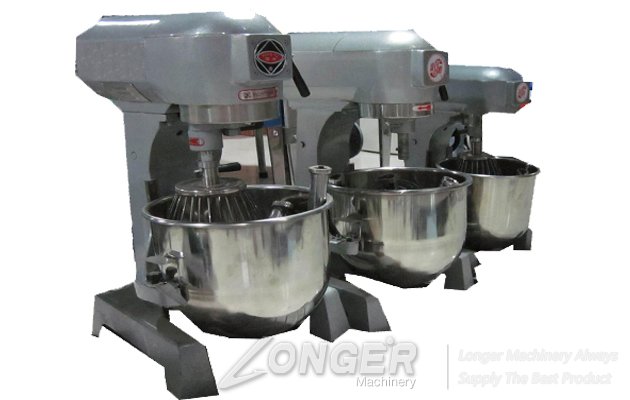 Advantages
1. Our mixer series uses all gear drive structure design, all the power transmission system parts adopts high standard design, it's powerful and steady in operation, strong structured and durable, it can consistently work under long hours, which makes it an equipment with commercial purpose.
2.The machine has three mixing speeds, you can choose different mixing device and speed according to the material that you are making. It's equipped with steel wire egg beating device, fan-shaped mixing device, and spiral dough making device. It's used in stirring cream, liquid cake, stuffing, dough making, etc. All the parts that contact the food use stainless steel material, it's highly hygiene and ensure food safety.
3. The mixer has both single phase and three phase power supply, you could choose the one that suits you best.
4. The machine has multiple functions, it's attractive and it has superior performance. It's easy to operate and widely used in restaurants, bakery shops, etc, it's an ideal equipment for making high quality cake products.