Arranged by the star-wheels,the biscuits are ranked orderly.
The biscuit is fed by the shapely chains,the producing efficiencyand the qualified rate is high.
Traditional gear pump is replaced by star-wheel rotor pump in stuff-feeding,so the stuffing of biscuits is evener,and the pump will not be blocked in operation for a long time.
1.Adjusted by advanced step less transducer, the speed is stable.
2.With photoelectric control, it can automatically detect the lack of biscuits. When the machine stops, the stuff-feeder will shut- down automatically to ensure no leakage of stuff and keep the machine clean.
3. Arranged by the star-wheels, the biscuits are ranked orderly.
4.The stuffing is various and suitable for jam stuffing,butter stuffing,2-layer and 2-color stuffing(3-biscuit2-layer stuffing or 2-biscuit 1-layer stuffing).
5. The temperature can be controlled automatically to ensure constant temperature for the stuffing, when various specifications of layer-biscuit such as rectangle, square, roundness and ellipse are changed, every parts can be adjusted rapidly and easier.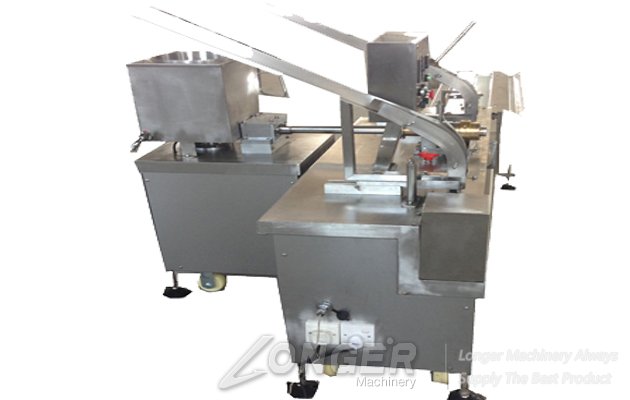 Advantages
Range of application is big, stable constructure and performance.
1, Advanced frequency converter, stepless speed.
2, photoelectric control, detect biscuit automatically, and it can close feeder automatically once the turn off machine to make sure there is no leak of stuffing.
3, Star Wheel Rotor Pump instead of gear pump to feeding material, it can improve sandwiching stuffing more uniform, there will no blocking.
4, Star Wheel to tidy biscuit to make sure all biscuit in ordered arrangement.
5,sandwiching variety, suitable for Fruit Jam, Cream ,double colour and double colour sandwich.(2+1 )
6, temperature control automatically, and can make sure the stuffing in constant temperature.
7, for Rectangle, Square, Round,Ellipse shape of biscuit, and other shape of biscuit, it is easy and convenient to adjust.
1 Imported parts,low noise, high durability.
2 Operate conveniently.
3 It can be equipped with work line .