1.The processing line consists of machines: Peanut Roasting Machine.Peanut Peeling Machine(Dry type).Sugar Cooking Pot.Temperature Control Nonstick Mixer.Stainless Steel Conveyor. Automatic Molding And Cutting Machine. Automatic Peanut Brittle Packaging Machine.
2.Multi-purpose roasting machine is mainly used for peanut, peanuts, chestnuts, walnuts, almonds, eat beans, coffee beans, seeds and other granular materials, baking or drying.
3. Peanut Peeling Machine is suitable for processing a variety of peeling peanuts, almonds and so on.
4.Sugar cooking mainly used for candy, rice crisp, beverage, pharmaceutical and other processing.
5.Temperature Control Nonstick Mixer adopts far-infrared plate heat, heat uniform, fluoride nitrogen-treated barrel surface besmear not touch thrun coating, mixing the effect is much better.
6.Automatic molding production line is mainly used for peanut brittle,sesame candy etc food processing.
7.Automatic packing machine is mainly used for biscuits, bread, moon cake, candy, eggs, sweet potato cakes, caramel treats, daily necessities, hardware parts, cartons or pallets and other solid objects with the packaging rules.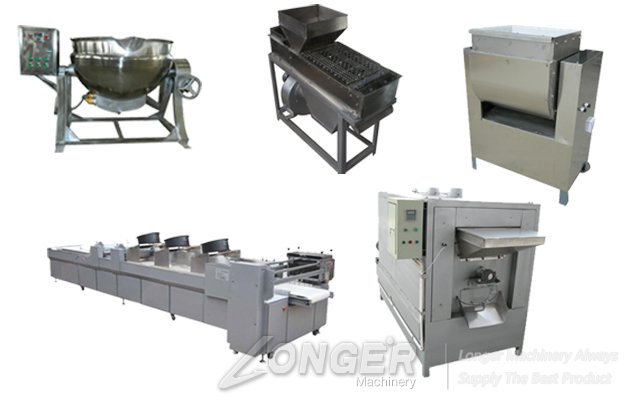 Advantages
1.Multi-purpose roasting machine is easy to use, high efficiency and energy saving, durable wait for an advantage.Baked products are of good quality and hygiene, taste is, all can achieve export standards.
2.Peanut peeling machine has the advantages of stable and reliable performance,Long life, peeling effect, high productivity, half a low, good quality, etc.
3.Sugar Cooking Pot is with big heated area,high efficiency,uniform heating,liquid material boiling time is short, the heating temperature is easy to control.
4.Temperature Control Nonstick Mixer is with automatic temperature control system, temperature regulation more convenient.
5.The production line consists of heating and stirring, reciprocating platen, automatic cuts composition, with simple operation, stir the finished size, weight consistent.