Introduction of product:
1.This
automatic peanut brittle production line
including Automatic Peanut Roasting Machine.Automatic Peanut Peeler.Sugar Cooking Pot.Temperature Control Nonstick Mixer.Forming and Cutting Machine.Packing Machine.
2.Automatic Peanut Roasting Machine is made of metal and it is a single-body roaster. It has a simple structure and it is very easy to operate.
3.Peanut Peeling Machine is suitable for processing a variety of peeling peanuts, almonds and so on.
4.Sugar cooking mainly used for candy, rice crisp, beverage, pharmaceutical and other processing.
5.Temperature Control Nonstick Mixer,It is mainly used for crisp egg cakes, rice crisp, frozen swelled candy rice etc recreation food agitation.
6.Peanut Brittle Molding and Cutting Machine is mainly used for peanut brittle,sesame candy etc food processing.
7.Automatic packing machine is mainly used for biscuits, bread, moon cake, candy, eggs, sweet potato cakes.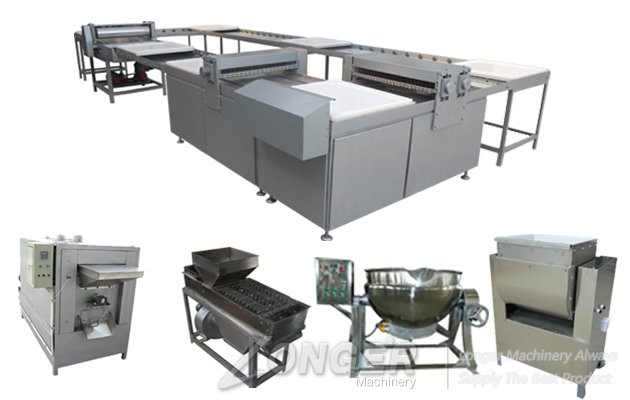 Advantages:
1.Automatic Peanut Roaster,The working temperature can be well controlled because this machine has a automatic temperature controller.
2.Peanut peeling machine has the advantages of stable and reliable performance,Long life, peeling effect, high productivity, half a low, good quality, etc.
3.Sugar Cooking Pot is with big heated area,high efficiency,uniform heating,liquid material boiling time is short, the heating temperature is easy to control.
4.Temperature Control Nonstick Mixer is with automatic temperature control system, temperature regulation more convenient.
5.The peanut candy machine consists of heating and stirring, reciprocating platen, automatic cuts composition, with simple operation, stir the finished size, weight consistent.