This equipment adopts the knife, peanuts, sugar, sesame seed candy, melon seeds, sugar production small squares cutting equipment. Easy operation, uniform slices founder. Is a self-employed, large and medium-sized factory replace manual knife will choose equipment, greatly reduce the labor intensity of workers, improve the production efficiency and reduce labor costs.
It is used for cutting peanut brittle, sesame candy, etc. the products can be cutted by horizontal and vertical automatically. the finished product is smooth and beautiful,neat and tidy, high production efficiency.

Company has technical service special line, and solutions for customers in time, ruled out the various problems in the process of production, and is equipped with a full-time technician visit between the masses of customers, in a timely manner to provide users with equipment maintenance, maintenance services, is responsible for the customer, after the large equipment sales, make broad customer master equipment operation, maintenance, maintenance and other professional knowledge, companies have special professional technicians on-site installation, commissioning and guarantee customers to produce qualified products.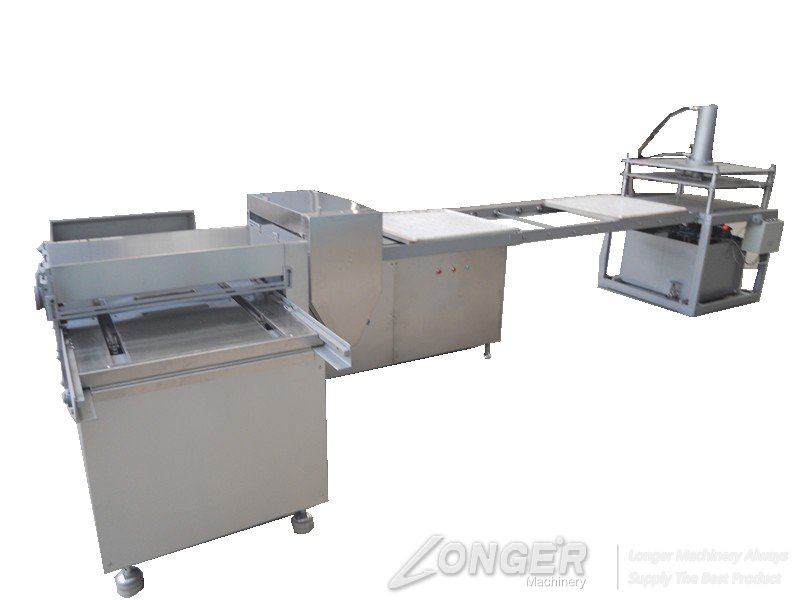 Advantages
Main performance and structural characteristics:
1.The production line consists of heating and stirring, reciprocating platen, automatic cuts composition, with simple operation, stir the finished size, weight consistent.
2.Far infrared heating, nonstick sides of casks, Stir Evenly, nonstick pot.
3. Automatic control reciprocating motion, the average level.
4. Automatic dicer, a molding, product size, weight consistent.