1.This Cream spreading machine is an important piece of machine in the wafer line, which determines the number of wafer sheets and cream (chocolate) layers that should be made.The cream is applied, laid up and laminated automatically and regularly before the wafer block is sent to the conveying belt.
2.This machine has functions such as:
A.applying cream (chocolate) layer on per cooled wafer sheets;
B.draw evenly the cream (chocolate) layer and making the book of wafers sheets with different layer of cream (chocolate) and sheets;
C.applying slight pressure to hold the wafer/cream (chocolate) together.
3.Number of cream layers and wafer layers can be adjusted as required to have count from 2 to 7 by customizing.
4.The machine will automatically count them according to the adjustment made. Anticipate the roller of filler contain automatic constant temperature control.
5.Draw the layer thickness adjustable. You can decide it by your needs.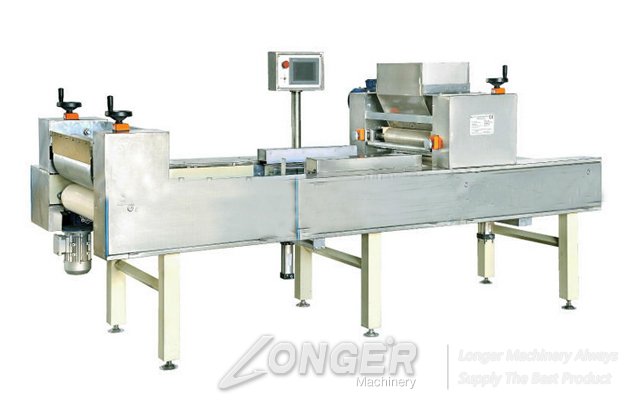 Advantages
1.Number of cream layers and wafer layers can be adjusted by PLC.
2. Its voltage can be customized both380V and 220V if it is necessary.
3.The machine frame is made of steel with international standard and the cover adopts imported 304 stainless steel plate with thickness of 1.2mm, have a long service life.
4. Adopting hearing medium conduction technology with heating oil as medium,the machine is a new generation product developed exclusively in China based on the advanced structure of existing plants from domestic market and abroad.
5. This machine can spreading wafer biscuit effectively with low defective goods rate.
6. Equipped with stainless steel shield, using safe power control, safe and reliable operation.