This equipment is used together with the
biscuit production line
to produce Sandwich biscuit two-plus-one color, three plus two color biscuit.
Features
1. PLC for simple operation including machine set-up, hopper controls, speed adjustments.
2. Cream Shapes: can handle a wide variety of shapes, including round, square, rectangle.
3. Removable scrap trays are provided for simple scrap collection and machine cleaning.
4. Easy to operate: Simple adjustments for machine speeds, cream volume.
5. Sanitary design with stainless steel for food contact parts, including cream stencil and interchange faster.
6. Separating cream holding tank and feeding system.
7. No biscuit no cream system.
8. The pusher with double chain assure machine running stable and cleaning and maintenance.
9.Every cream hopper with independent motor and reducer.
10.Mobile cream hopper can cleaning while finish working separately.
11.SUS304 stainless gear pump, connection tubes between cream hopper and stencil are jacket design.
12. Temperature metering device installed the cream stencil and convenient change-over stencil design for different cream shapes.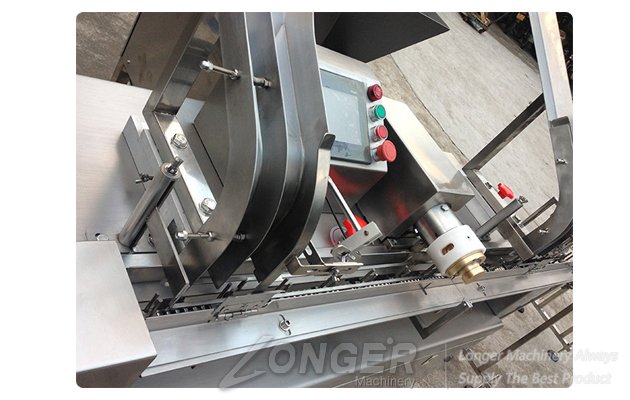 Advantages
1.Adjusted by advanced step less transducer, the speed is stable.
2.With photoelectric control, it can automatically detect the lack of biscuits. When the machine stops, the stuff-feeder will shut- down automatically to ensure no leakage of stuff and keep the machine clean.
3. Arranged by the star-wheels, the biscuits are ranked orderly.
4.The stuffing is various and suitable for jam stuffing,butter stuffing,2-layer and 2-color stuffing(3-biscuit2-layer stuffing or 2-biscuit 1-layer stuffing)
5. The temperature can be controlled automatically to ensure constant temperature for the stuffing, when various specifications of layer-biscuit such as rectangle, square, roundness and ellipse are changed, every parts can be adjusted rapidly and easily.